Savory Bison Oven Roasted Meat Balls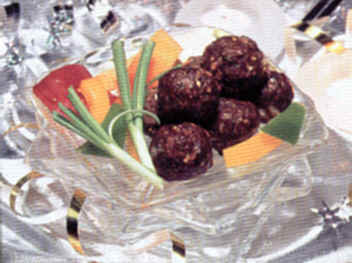 2 pounds Star B Ranch Ground Buffalo Meat
1 egg
1/2 cup finely diced onion
Sauce:
1 16oz. can jellied cranberry sauce
3 tablespoons prepared horseradish
1 tablespoon Worcestershire sauce
1 clove garlic, minced
2 tablespoons honey
1 tablespoon lemon juice
1/2 teaspoon ground red pepper

Cooking and Preparation Instructions
1) Heat oven to 350
2) Add beaten egg and onion to ground buffalo and mix well. Form into bite size buffalo balls. Bake for 30 minutes or until done.
3) In a medium sauce pan combine cranberry sauce, horseradish, honey, Worcestershire sauce, lemon juice, garlic and red pepper. Bring to a boil, reduce heat and simmer, covered for 5 minutes.
4) Add meatballs to sauce and serve. Serves 6-8.
Note: To keep the shape of the meatballs, plunge momentarily into rapidly boiling water before cooking. This will also seal in the flavor.