Savory Bison Oven Roasted Meat Balls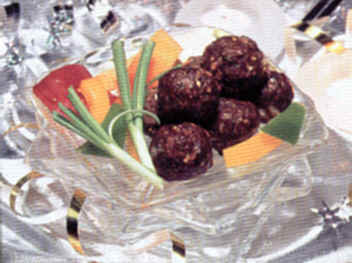 1 pound ground lean Star B Ranch Bison Meat
1/2 cup finely chopped mushrooms
1/3 cup finely choped red onion
1 egg, beaten
2 cloves garlic, minced
1 teaspoon salt
1 teaspoon ground black pepper
1 teaspoon Italian seasoning
Dipping Sauce, recipe follows
Cooking and Preparation Instructions
1) In medium bowl combine all ingredients. Mix until well blended.
2) Form into 24 meatballs bout the size of a large wallnut.
3) Spray a baking pan with non-stick cooking spray. Place meatballs on pan.
4) Roast in preheated 400F oven for 12 minutes, or until done. Serve with dipping sauce.
Sauce:
2/3 cup low fat mayonnaise
1/3 cup Dijon style mustard
3 tablespoons chopped green onions

In small bowl combine all ingredients. Stir to blend and serve. Preparation time: 10 minutes.